Where do Angler Gaming's sales come from?

Some time ago I was in a hotel in London, looking to do some sightseeing on my last day. I asked if they can store my belongings for couple of hours, and was directed to consierge. 
"May I have your bag, sir", he asked. I gave him the bag. "Wonderful", he said. Wonderful.
Having a rhino appear in the streets of Riga after a lightning strike would be wonderful. Because, you know, it'd be an actual wonder.
Having my bag is just a natural concequence from the fact you work at a hotel that stores guest's luggage. 
Where I come from, you don't even ask if they have storage room. You claim they don't have storage room, and if you're lucky, you'll be corrected. This way you'll get less disappointed - you fully expect a hotel not to offer any services - and if you're mistaken, it'll be a nice surprise. 
Nothern Europe can be divided into two parts. Scandinavia, where Anglo-Saxon influence has caused them to be as overly optimistic as the Americans and overly polite as the Brits, whereas Finland and Baltic countries have retained their pessimism. Every day is a doomsday waiting to happen.
From investor's point of view, pessimism is realism. Common wisdom tells us greed leads to stupid investment decisions, but most often greed is actually baseless optimism. A lot of the companies I invest or consider investing in, are Swedish. And quite often, their promises, expectations, estimates and plans are plain BS - for cultural reasons, of course. 
Now to Angler Gaming. It is refreshing exception. No exaggarated presentations. No press releases for deals that look cool but have no effect on EBITDA. They simply communicate nothing. Yes, quite literally. Below is their organization structure.
Numbers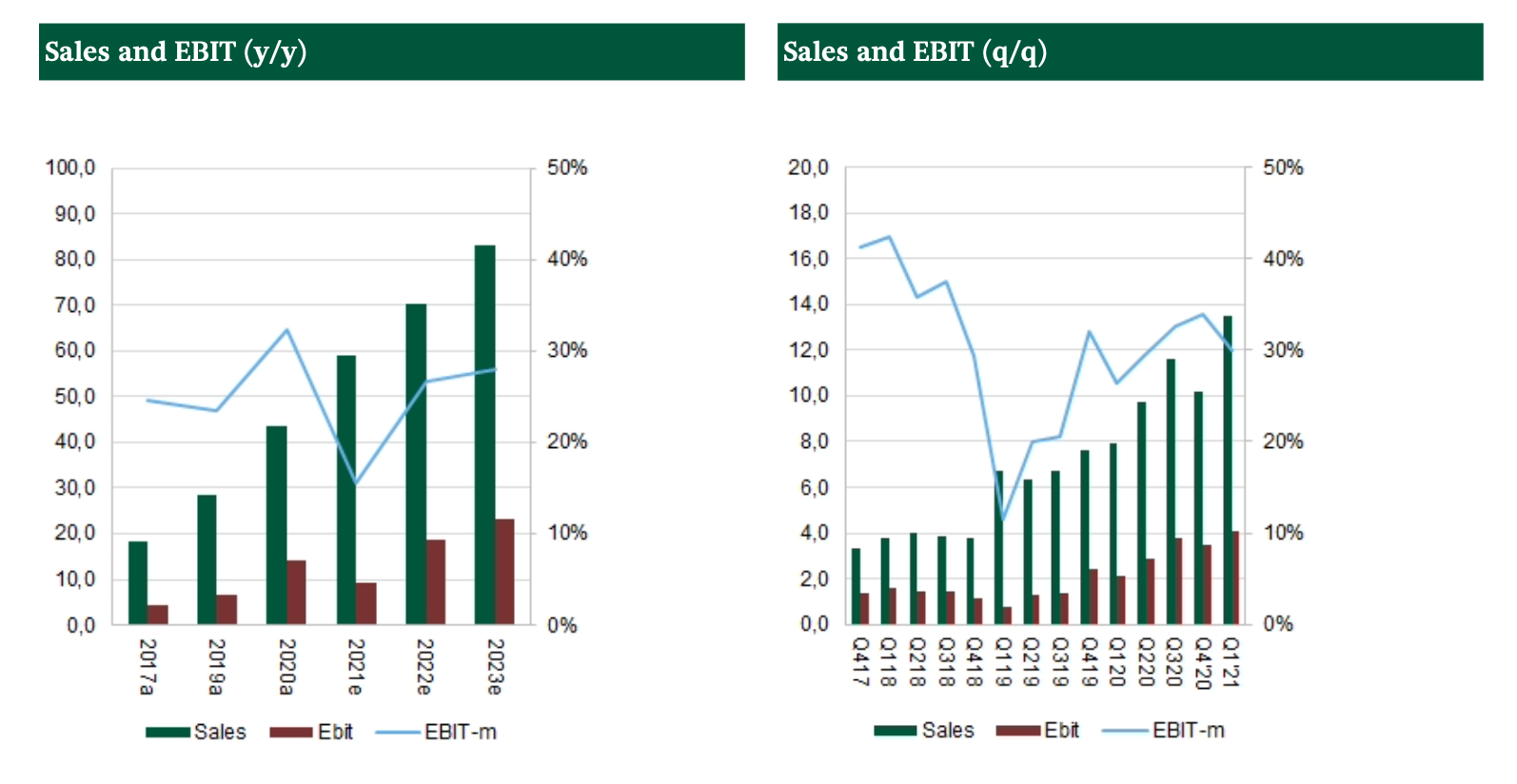 Their business is doing well, to say the least. Despite high growth Angler Gaming is still able to pay out nice dividend (4,46%). 
Revenues increased by 52% to 43M€ in 2020, compared to 28M€ in 2019. First quarter of 2021, revenue growth continued, 38% growth compared to Q1 in 2020. For more detailed info, see 2020 annual report and 2021 Q1 results.
So where does this money come from? Premiergaming Ltd is the most visible part of Angler Gaming. They operate Pronto Casino, among with couple of smaller casinos. Pronto Casino is somewhat known but fairly small casino targeting Sweden with Swedish license, and Finland and Germany with MGA license. 
But as per latest annual report, Premiergaming Ltd accounts for 13% of revenues. 5.59M€ in GGR is certainly not bad, but it's split out over 4 casinos operating on 2 licenses. Maltese license is quickly loosing appeal, as more markets regulate - latest example being Germany. Finland is pushing through a new gambling law and while exact effects are unclear, it's certainly not going to be good for MGA casinos.
Regulated and competitive markets are not profitable, especially for small operators. Sweden being great example. Acquiring players is insanely expensive due competition, and getting value out of those players is near impossible due strict regulation. Big operators, kindreds and betssons, can somehow manage. They have the resources to build an excellent product and brand recongition - and archieve far better customer retention than any small operator could dream of. Bottom line is still going to be hurt short term, but long term they can manage.
There are no signs Premiergaming is planning to take this route, so growth prospects of Premiergaming Ltd, at least in its current form, are non-existent. (This is not to say they should expand in regulated markets at all cost. That'd be a horrible idea.)
Markets
Again, what accounts for remaining 87% of revenues? You'd think a semi-public (listed on Spotlight, not really a stock market) company would communicate what products they sell, and in which markets. I asked this via email a month ago. No answer. 
Little digging reveals their subsidiary is Mobile Technology Marketing B.V, operating following casinos.
CasinoEstrella, targeting Spanish speaking countries, ie. South America.
Lucky31, targeting Portuguese speaking countries, probably mainly Brazil.
CasinoExtra, targeting France.
Fatboss, targeting Russian speaking countries. Probably not Russia.
Futocasi, targeting Japan. Launched 05/2020, most likely did not have meaningful effect on 2020.
Hiperwin, targeting Turkey. It is launched very recently, thus most likely did not contribute to Q1 2021 numbers.
It is impossible to guess how much each casino and market contributes to sales just by looking at these casinos. Saying that Latin America is big for them, will most likely be correct. Angler Gaming recently invested 300k€ to form a joint venture with South American affiliates. "Local party" owns 20% and is expected to fully run the operation. 
Again, impossible to evaluate this deal based on no information other than above, but giving away 80% in exchange for 300k€ tells me the "local party" either does not have experience in iGaming, or that they have not been very successful in the past.
Pricing
As of writing this, Angler Gaming is valued at 27,5 SEK / share, ~15 times earnings. Obviously this is very attractive valuation if they can continue to grow about 20% a year, as Penser suggests (report in Swedish). 
Betsson, from which Angler Gaming was born from, trades at about 9 times earnings. Granted, it doesn't grow very much, and tends to underwhelm investors ever so slightly with every report, resulting in stagnating price. But it does operate in far more markets, many of which are regulated, it has recognizable brands with excellent customer loyalty, and is of course 20 times bigger than Angler Gaming.
There's no reason why Angler Gaming could not continue to grow in Latin America, where online penetration in iGaming is far behind Europe, leading to markets growing faster. But growth tends to attract attention, resulting in regulation - and one way or another, more difficult environment to operate in.
iGaming companies often have growth spurts. Best performers have them in parallel and consequently, so on the outside, they don't even look like spurts. Inside, they always look like spurts. You discover a new market. New way to acquire customers. Something to retain customers better. Tool to extract more value out of customers.
Of course, these kinds of things happen in every company. My concern is that Angler Gaming may have had a growth spurt by discovering something that works in LatAm right now. You can make a lot of money by being at the right place at the right time, but I'd be more comfortable if they were there with a great product instead of bunch of run-of-the-mill casinos. 
Combine that opaque communication with investors, and I'm starting to hesitate increasing my position, despite Angler Gaming having been very good investment so far.