Why invest in online gambling
I recently sat down with some investor friends and explained them why it's a good idea to invest in online gambling companies.
Most, by default, don't share this view. In fact, they perceive it as risky. Not necessarily risky as in too volatile, but risky as in uncertain of the outcome. 
Let's start with the obvious. Gambling companies don't gamble. They just enable their customers' gambling. Only exceptions are sports betting and insurance. Insurance companies bet you don't burn down the house, and are right. Most of the time, anyways. In sports betting - unless it's an exchange, such as Betfair - the house just takes the opposite side of the bet. Players can win, and there are plenty of players who consistently beat the odds. 
Operating casino games is not a gamble, however. Here's a machine that returns 95% of the money you shove in it. Is operating such machine gambling? I don't think so.
Another common misconception is that iGaming equals online casinos. Online casinos are a big part of the value chain, but nothing more. Nearly 90% of Silja's portfolio is iGaming, but only 44% is in operators - Betsson, Angler Gaming and Kindred.
Two out of three aren't really just operators. 20% of Betsson's sales last quarter came from delivering sportsbook software to B2B clients. After acquiring Relax Gaming, ~10% of Kindred's market cap is game development and aggregation. Kindred owns their own platform, book value is ~5% of market cap. Angler Gaming is so far pure operator, but they also have their own platform with plans to expand to B2B.
Rest of my portfolio is other parts of the iGaming value chain: player management and betting software, payments and affiliate business.
iGaming value chain
Below map gives a rough idea of how the value chain works. I have probably forgotten to include some companies, and it excludes land-based completely. As can be seen, many companies are engaged in more than one part of the value chain. 
If embedded map doesn't work, download PDF here.
Low risk and high risk relates to part of the value chain, not individual companies. Lady Luck Games was listed in Firsth North Growth few months ago, and their turnover in 2020 was about 7500€. Obviously this is not a low risk investment, even though as a game provider it belongs to the low risk side of value chain.
"Investment thesis"
There are three reasons why I invest in iGaming.
Digitalization. Online penetration is very low in most countries except Nordics and UK. Virtually every country on the planet will, eventually, have at least half of all gambling conducted on the internet. Whether this will take 5 or 20 years, depends on the country. 
United States opening. Winners in US are impossible to predict, and they will most likely be on state level rather than whole country. I'm not trying to bet on any particular operator. Rather I see 2 growth drivers: general valuations for iGaming companies being far higher in US - and European iGaming stocks eventually following, as US money finds them. Second is American land-based conglomerates acquiring European companies, as has happened already. 
Attractive valuations. In no other industry can you find double digit growth, combined with 20-30% EBITDA margins, for ~10x P/E multiples. In iGaming, you don't need to choose between value and growth investing.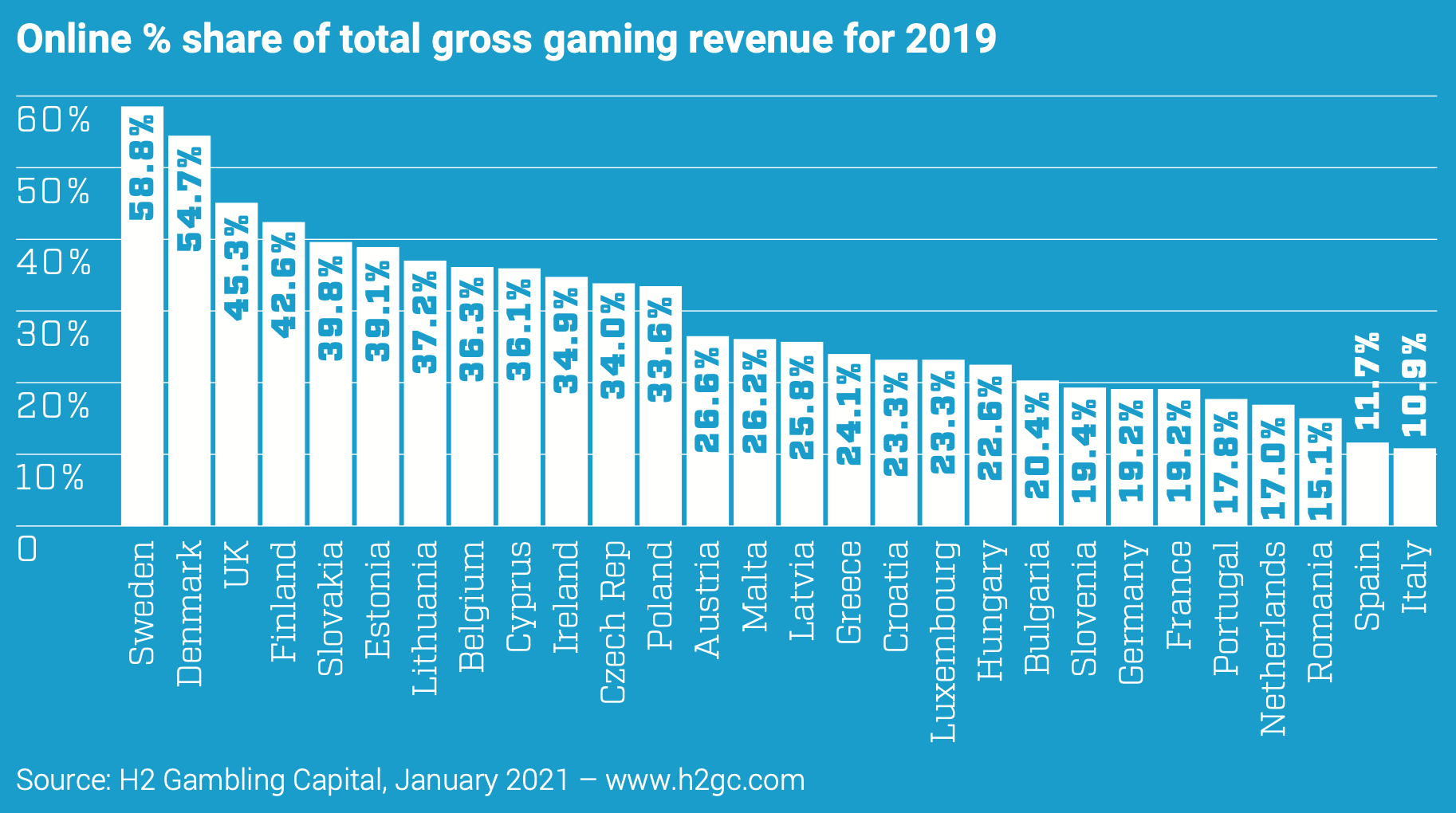 Operators 
As an eternal pessimist, I will start from the downsides and other issues operators are facing. After all, there is something behind low P/Es multiples. 
Biggest issue with operators is they are essentially just aggregators. Think of an app store, but without walls. Content, whether it's live casino, slots or sportsbook, is always rented. In case of sportsbook, operators can set their own odds, but most buy data feeds at least for bulk of the events. In case of casino games, operators cannot influence them in any way. All of this is bolted on to a software, probably owned by someone else too.
There is very little that can be done to differentiate the product from other products. Every casino has similar offering, provided by about 150 producers, out of which handful are actually popular - ie. having a provider will make a meaningful difference vs. not having it.
When every competitor is one click away, with practically the same offering and pricing (ie. return to player), competetive edge is very hard to build and retain. Value can be added by building a better product. Drastically different product will require owning the platform, costing tens of millions - as Kindred and Betsson have done.
Do they have better product than average no-name casino built on turnkey solution? Certainly. Is the end result so much better it justifies spending 5-10M€ per year on development? Probably not. There are other reasons to own your platform, but it does demonstrate how difficult it is to produce any additional value to players.
Only other differentiator is brand. Awareness, reputation and such. Both brand value and better product can be measured by increased player retention. I started as a Betsson affiliate well more than a decade ago, and I see some players from the beginning still being active. In grey market like Finland, new operators are struggling to retain players for weeks. But, if this was so simple, single-brand strategy would be the way to go. Yet I can't think of a single stock listed operator not executing multi-brand strategy.
Regulation is key factor. Markets live or die in the hands of politicians. Land-based gambling is one of the most regulated areas everywhere in the world, and online gambling will be too. In many European countries, it already is.
Key markets can melt overnight. Most recent example being Germany. They introduced strict limits, and while I personally am in favour of spin limits for harm reduction, hard deposit limit of 1000€ per player across all licensed casinos is both nonsensical from gambling harm perspective and toxic for profitability. Germany introduced turnover tax of 5%, and given that margin for most games is around 4%, it's effectively 120% tax on gross gaming revenue. Games will have to be modified to pay out less in Germany. (World's highest-tax society Denmark has 28% tax on GGR.)
Now on to the positives. For operators, every reason listed previously under thesis is valid. Most operators are exceptional businesses: growing double digits whilst retaining double digit profit margins. Yet they are valued in the range of 10-15 times earnings. If you buy a business for 10x earnings and it grows 15% a year, after 6 years the business has generated your investment's worth of earnings, and on top it's likely to be several times as valuable as at the time of purchase.
Affiliates
This is by far the most volatile and unpredictable piece of iGaming puzzle. Affiliates have astonishing margins. GIG's media arm has ~50% EBITDA margin, especially incredible given they generated ~35% of their delivery from paid sources last quarter, having an average acquisition cost of 100€ / player. 
Wait, it gets even better. For most affiliates, at least about half of revenue comes from revenue share agreements. What this means is a player generated today will generate sales for months or years to come - very much like subscription business. If things go south (in this field, they often do), there will still be plenty of cashflow left, to be sold, milked, or used for rebuild.
It is entirely possible to run 10M€ turnover from mom's basement with 90% margin. Most don't, of course. And for those who do, the ride only lasts for so long. Which brings me to the biggest downside.
iGaming affiliates own a bunch of websites. Primary function of those websites is to have colourful buttons leading to online casinos. Curating 50 casinos from pool of thousands does actually provide value to end users, and as such, business model is likely to continue to exist. But which website with buttons is ranking in Google tomorrow? Who knows. 
In January 2020 XL Media put out a short and dry press release stating that their websites have been manually demoted by Google. Stock fell 27%, and if more investors had background in SEO, it would've fallen even more. You can remove what got you penalized, but the very same thing made you rank in the first place. There is no redemption from manual penalty.
XL Media lost about 20-30M$/year of revenue overnight. In most cases downfall is not as quick, but death by bleeding is death as much as any other death.
For this reason, when analyzing iGaming affiliates, always assume their balance sheet is a bad joke. Real number is whatever their used iPhones and office furniture can be sold for on eBay. The value of an iGaming affiliate is something times EBITDA minus debts. Net profit is similarly meaningless, as it contains arbitrary changes in valuation of said websites.
Software and game providers
Anything SaaS is of course more sustainable than having a website with buttons, or a website with iFrames to someone else's games, as is the case with online casinos. Unfortunately, this is largely priced in.
All games and nearly all software operates on same principle as affiliates, and most of revenue is charged as percentage of GGR. What's so appealing is there is unlimited upside due the %-based fee, but downside is more limited as one game or platform provider can work in nearly all markets with all operators.
Online gambling is growing everywhere, and from game provider's perspective, it doesn't really matter what individual operators are winning or loosing in market share. They all are going to offer Netent slots and live casino by Evolution. Even the games not owned by Evolution are likely to pay percentage of their percentage to Big Time Gaming as license fee to use Megaways concept, and BTG is owned by Evolution. 
One of the smartest investment decisions I've made was to buy Evolution and Netent. One of the most moronic was to sell them, half when their merger was announced and other half when it was completed.
Around 2012, when Bitcoin was around 15€ per pop, bartender from my regular place said Bitcoin is going to be the future. I didn't take his advice, for two reasons: he was in the habit of going to the next restaurant after his shift to play slot machine - not exactly a savvy financial decision. And, well, he was a bartender. I don't know if he held on to those coins but if he did, he's probably not a bartender anymore. This might've been as moronic decision as selling Evolution, and just as I, to this day, have not managed to buy a single Bitcoin, I also have not managed to buy back the Evolution stock once sold.
Perhaps I should own more SaaS in general, but I'm struggling to find the right one. Industry consensus is that Kambi has better product than anyone else. Sounds sustainable to me. But I know sports as well as an average pidgeon and can judge sportsbetting platforms exactly the same.
GAN looks like a potential winner in US, but valuation is sky-high compared to European stocks. If Coolbet continues to perform, and I shake the pessimist off my shoulder, it may be worth 300M$. If we assume their platform business is worth 100 times monthly sales, it's 350M$ more, and 650M$ is bit more than its market cap as of writing this. Then again, I'm so far five figures in the red from my investment to GAN.
Fantasma and Lady Luck Games are just too early for me. Casino managers are saying Fantasma games perform relatively well, but it's still tiny and still loosing money.
GIG would be otherwise on my list simply for their excellent affiliate business. EV is 10 times EBITDA from their media, and software is free. Reason why software is free is they have - for years - shoveled proceeds from media to software, failing to turn a profit from SaaS business. 10x EBITDA doesn't make sense for affiliate business, and I haven't got the slightest clue if their platform business will one day deliver a healthy profit margin. 
Americans and their valuations
Draftkings is a different beast altogether. I simply cannot wrap my head around the fact it's valued, as of writing, at 17.5B$. I do realize Betsson doesn't grow very much, doesn't have strong US presence, and is not cool. Draftkings does grow (for now) and last quarter they had 70% more sales than Betsson.
So I guess it's worth more than Betsson, especially if you don't mind the fact Draftkings looses money wheras Betsson makes it. But is it worth 19 times more?
They both own a sportsbetting platform, but Betsson actually uses theirs, whereas Draftkings still uses Kambi. They are migrating to SBTech, which is part of Draftkings, but people in the industry are very sceptical of how it's going to go. 
I do realize Kindred would be better comparison, as it's bigger, grows quickly and has credible plans for US expansion. But it doesn't own its own sportsbetting software. But does it matter? For the market cap of Draftkings, you could buy Kindred, Kambi and Betsson and still have more than 10 billion dollars left, for ice cream and such.
Or you could buy Entain for 23% less than Draftkings - not bad given Entain makes as much EBITDA as Draftkings has sales.
One day American investors will discover European iGaming stocks, probably when their state's largest B2C iGaming brands is European. If they retain even a fraction of the ignorant optimism that drove Draftkings to 17.5B$, the whole industry will look very different.